Alumni Weekend 2017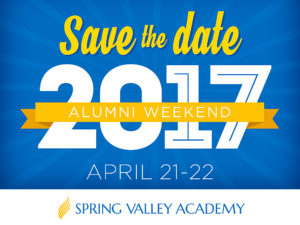 Each Spring, Spring Valley Academy welcomes back alumni of all ages to visit our campus and re-connect with old friends.
This school year alumni weekend will be held April 21-22, 2017. Honor years are classes 1972, 1977, 1982, 1987, 1992, 1997, 2002, 2007, and 2012.
Our special guest speaker will be Pastor Kumar Dixit, SVA Class of 1992, radio chaplain of WGTS 91.9 in Washington, DC.
We urge our alumni to come back year after year to reminisce and see how Spring Valley Academy is growing for the future.
2017 Alumni Weekend Event Schedule
Friday, April 21
Alumni Golf Tournament – Heatherwoode Golf Club, Springboro – Noon (lunch and registration), 1:00 pm (shotgun start)
$75 per person fee includes lunch.
$400 for a foursome (with a tee sign and lunch).
To participate, fill out our registration form. Please contact Don Shull at 937-681-2260 or email Don  for more information about sponsorship opportunities; please submit payment on our donation site in the "other" category, indicating "alumni golf tournament" as the explanation of the charge.

Family Vespers – SVA Gym – 7:00 pm
Music by our SVA band and choir groups as well as a message entitled "Who Knew?" from our featured speaker, Kumar Dixit, class of 1992.
Sabbath, April 22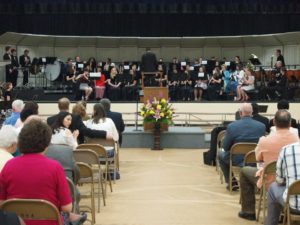 Breakfast with Principal Darren Wilkins – SVA Home Ec Room (FACS Room) – 9:00 am – 10:15 am
Church Service – SVA Gym – 10:30 am
Music by the SVA Band and Choir (alumni participation welcome!) and a message titled "Break the Roof" by our featured speaker Kumar Dixit, class of 1992, radio chaplain of WGTS 91.9 in Washington, DC.
Lunch – SVA Cafeteria – Noon
Worship and Performing Arts Center Groundbreaking – SVA Gym and Building Site – 2:00 pm
Join us as we celebrate this momentous occasion as we break ground on our new worship and performing arts center and dedicate the project to God.
Dedication of the Chris Rose Memorial Garden – Soccer Field – 4:00 pm
Friends and family of Chris Rose are invited to gather to dedicate a special garden in his memory.
Varsity vs. Alumni Basketball Game – SVA Gym – 9:00 pm
For more information about alumni weekend, please contact Angie Peach at 937-433-0790 or email anpeach@springvalleyacademy.org